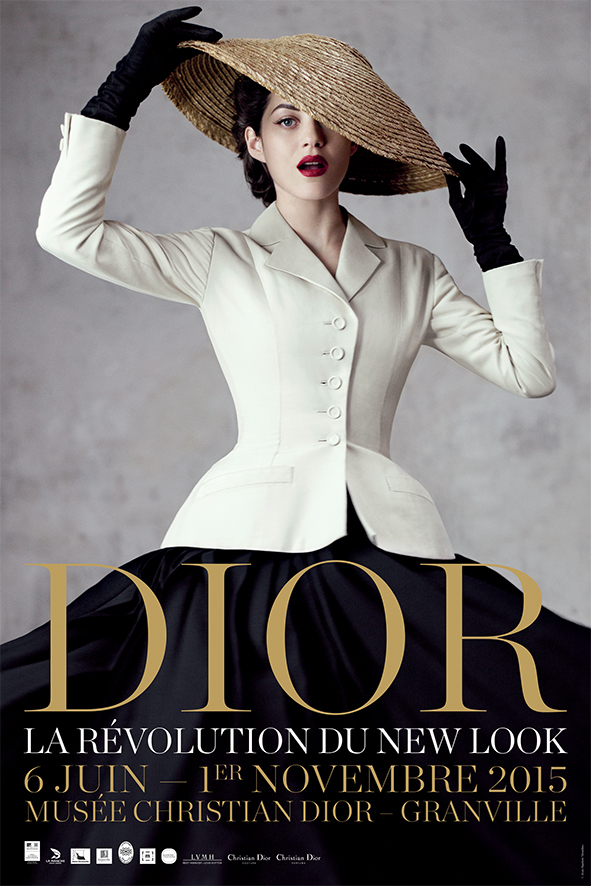 " DIOR, THE NEW LOOK REVOLUTION"
Christian Dior Museum, Granville
Until November 1st 2015
After having depicted the links Dior is weaving with the arts, the Christian Dior museum presents the revolution of the New Look and how exceptional it is to the history of fashion.
On February 12th, 1947, Christian Dior reveals his first haute couture collection in his newly founded House located 30, avenue Montaigne in Paris. An event unprecedented in the fashion realm, Christian Dior - totally unknown the day before – rises to fame the day after his show.
Dior Red, coat in cashmere Bar (Haute Couture F/W 2012/13 Collection)
The New Look collection imposes itself as the founding manifesto of the Dior style. This collection revolutionizes the fashion aesthetics of the 1940's and heralds the revival of elegance and refinement of the 1950's.
The drastic change implemented by Dior echoes women s desire of metamorphosis from their second world war look. Within this era of reconstruction, Christian Dior creates a new aesthetics heading toward the future. He imposes the reinstatement of an exultant femininity.
To the straight and masculine silhouette, he opposes the revival of the beauty of the curve, charm and splendor.
Haute Couture S/S 2010 Collection
Within this legendary collection, one design is closely watched, the notorious "Bar" outfit. This afternoon suit, with its pure and architectural cut, summarizes the spirit of Christian Dior's message. This genuine New Look icon finds itself among the artistic lineage of the House of Dior for the upcoming decades. Artistic directors who will come after the founding father of the House would regularly pay tribute to this original manifesto, while rewriting according to their own skills, a powerful style, always in harmony with the present.
Haute Couture S/S 2010 Collection
The exhibition "Dior, the Revolution of the New Look" offers a journey throughout the Dior universe and its creation from 1947 to 2015, based upon the original momentum of both the "Bar" suit and the New Look.
The themed pathway highlights with a new perspective this seminal event assessing the style of the House, from a genealogy of tributes to the "Bar" suit up to its historical and stylistic inspirations, its technical constructions and its plastic hallmark in praise of the curve.
Princesse Bundi and Princesse Partabgarh from the Haute Couture F/W 1997 Collection.
Photography by Patrick Demarchelier
The exhibition revolves around eighty Haute Couture garments from Christian Dior to Raf Simons, about thirty photographs, around fifty documents, New Look memories, manuscripts, original sketches, Miss Dior perfume bottles, mini-replica of the "Bar" suit, New Look dolls, "suit" patterns and toiles.
Haute Couture F/W 2012 Collection
Photography by Patrick Demarchelier
Dior. The New Look Revolution (Rizzoli International)
musee-dior-granville.com
AZZEDINE ALAÏA at Galleria Borghese
A lesson in the
art of perfection
From 11th July To 25th October
GALLERIA BORGHESE - Rome At the Galleria Borghese in Rome is opening the much-awaited Azzedine Alaïa exhibition. Staged throughout the entire gallery and organized by theme and color the exhibition leaves a perfect path for viewers to admire the breadth of Alaïa's tailoring mastery and craftsmanship. Each sculptor spotlighted in the gallery considered the human body worthy of celebration and chose to honor it in their respective material of choice, be it bronze or marble.
Giardini di Seta
From 11th July to 11th October 2015
Villa Sucota - Como e Villa Bernasconi - Cernobbio
Tessuti e botanica, seta e giardini, abiti e fiori: il filo conduttore della mostra Giardini di seta. Tessuti, abiti e botanica del territorio lariano, organizzata dalla Fondazione Antonio Ratti (FAR) e dal Comune di Cernobbio, esalterà la bellezza della natura e della creazione tessile.

La mostra, allestita a Villa Sucota di Como e a Villa Bernasconi di Cernobbio dall'11 luglio all'11 ottobre, intende esplorare il tema del rapporto tessuto-botanica dal Settecento ai giorni nostri attraverso i diversi aspetti della decorazione floreale.
I tessuti floreali provenienti dalle collezioni della Fondazione Antonio Ratti, da importanti collezioni private e dagli archivi storici delle industrie seriche lariane verranno esposti lungo un percorso suddiviso in "stanze" tematiche; nella prima parte di mostra vi saranno sete barocche lionesi in cui si intrecciano fiori e elementi architettonici, aerei taffetas decorati con tralci di rose o di bacche, cotoni per arredamento con realistici trionfi floreali della seconda metà dell'Ottocento.
La seconda parte della mostra è invece dedicata ai tessuti del Novecento, secolo che segna lo sviluppo delle seterie comasche, fornitrici dell'Alta Moda e del prêt à porter italiano e francese
Ai tessuti saranno accostati abiti collegati al tema, che per la parte novecentesca sono stati scelti per rappresentare l'Alta Moda italiana, da Biki a Capucci, Ferré, Valentino, l'Haute Couture parigina con Dior e Yves Saint Laurent, e il prêt à porter internazionale con Ken Scott e Leonard.

Textiles and botany, silk and gardens, dresses and flowers: the exhibition The Silk Gardens of Como: Textiles, Fashion and Botany, organized by the Fondazione Antonio Ratti (FAR) and the Comune di Cernobbio, celebrates the beauty of nature and of textile creations.

The display, held at Villa Sucota and Villa Bernasconi in Cernobbio from 11th July to 11th October - explores the relationship textile-botany from the eighteenth century to the present day through the various aspects of the floral decoration.
The exhibition path, divided in thematic rooms, will feature floral textiles from the collections of the Fondazione Antonio Ratti, from important private collections and from historical archives of the Como silk industry. The first part of the exhibition presents: Baroque silks from Lyon where flowers and architectural elements are woven together, light taffetas decorated with sprays of roses or berries, cottons for upholstery with realistic floral triumphs of the late nineteenth century.
The second part of the exhibition is dedicated to textiles from the twentieth century, which marks the development of the Como silk factories, suppliers of Italian and French haute couture and ready to wear. In each section, textiles will be matched with garments: Italian high fashion is represented by Biki, Capucci, Ferré and Valentino; Dior and Yves Saint Laurent stand as eminent examples of Parisian Haute Couture; and the International prêt-à-porter is featured with Ken Scott and Leonard.
China Through the looking glass
Until September 7
Metropolitan Meseum NY
This exhibition explores the impact of Chinese aesthetics on Western fashion and how China has fueled the fashionable imagination for centuries. In this collaboration between The Costume Institute and the Department of Asian Art, high fashion is juxtaposed with Chinese costumes, paintings, porcelains, and other art, including films, to reveal enchanting reflections of Chinese imagery.
Oscar de la Renta
From the earliest period of European contact with China in the sixteenth century, the West has been enchanted with enigmatic objects and imagery from the East, providing inspiration for fashion designers from Paul Poiret to Yves Saint Laurent, whose fashions are infused at every turn with romance, nostalgia, and make-believe.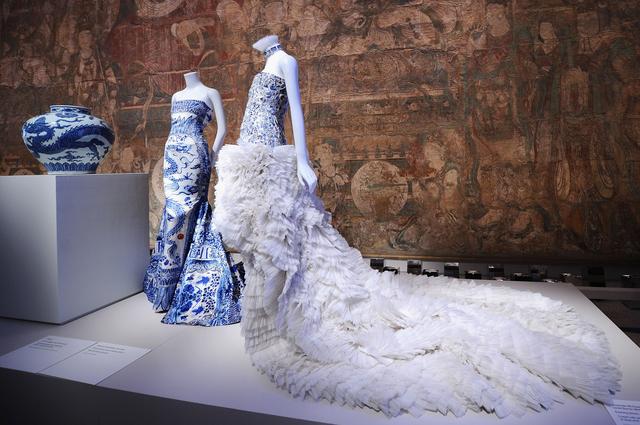 The exhibition features more than 140 examples of haute couture and avant-garde ready-to-wear alongside Chinese art. Filmic representations of China are incorporated throughout to reveal how our visions of China are framed by narratives that draw upon popular culture, and also to recognize the importance of cinema as a medium through which to understand the richness of Chinese history.
Valentino evening dress
www.metmuseum.org
Hello dear followers,
this is a new post for "My Weekly Notebook"
when
I'll select items,
ideas and ispirations.
Hope you like it.


Have a nice day
eccoci come ogni settimana con nuovo appuntamento per la rubrica "My Weekly Notebook" dove vi segnalo ispirazioni, idee, capi e dettagli che hanno attirato la mia attenzione.
Spero Vi piaccia.
Buona Giornata
FOLLOW ME WITH BLOGLOVING:
Follow me with Facebook New Page: