The EY Exhibition: Sonia Delaunay
Sonia Delaunay (1885–1979) was a key figure in the Parisian avant-garde and became the European doyenne of abstract art.
Throughout the first half of the twentieth century, she celebrated the modern world of movement, technology and urban life, exploring new ideas about colour theory together with her husband Robert Delaunay.
This will be the first

UK

retrospective to assess the breadth of her vibrant artistic practice across a wide range of media. It will feature the groundbreaking paintings, textiles and clothes she made across a sixty-year career, as well as the results of her innovative collaborations with poets, choreographers and manufacturers, from Diaghilev to Liberty. Delaunay is one of the crucial reference points in modern art and design

.
www.tate.org.uk
"Women Fashion Power"
Design Museum London
Until April 26
Designed by the inimitable Iraqi-British architect, Dame Zaha Hadid, 'Women Fashion Power' is an exploration of the way in which women use fashion as only one of many tools in their arsenals as they go about their daily lives.
The new exhibition at London's Design Museum is over almost 6,500 square feet divided in three parts: There is an analytic "corridor of power" that identifies 16 of the most influential dressers in history, starting with Hatshepsut, the Egyptian queen who used elements of male dress to establish authority after her husband's death, and culminating with Hillary Rodham Clinton; a 150-year timeline highlighting moments of public sartorial change (the "freedom from constraints" of the turn of the 20th century, the suffragist movement of the 1920s).
Women Fashion Power offers an unprecedented look at how princesses, models, CEOs, Dames and designers have used fashion to define and enhance their position in the world.
- See more at: http://designmuseum.org/exhibitions/women-fashion-power#sthash.5QQXcmbT.dpuf
www.designmuseum.org
THEA PORTER 70s Bohemian Chic
Fashion and Textile Museum- London
Until 3 May 2015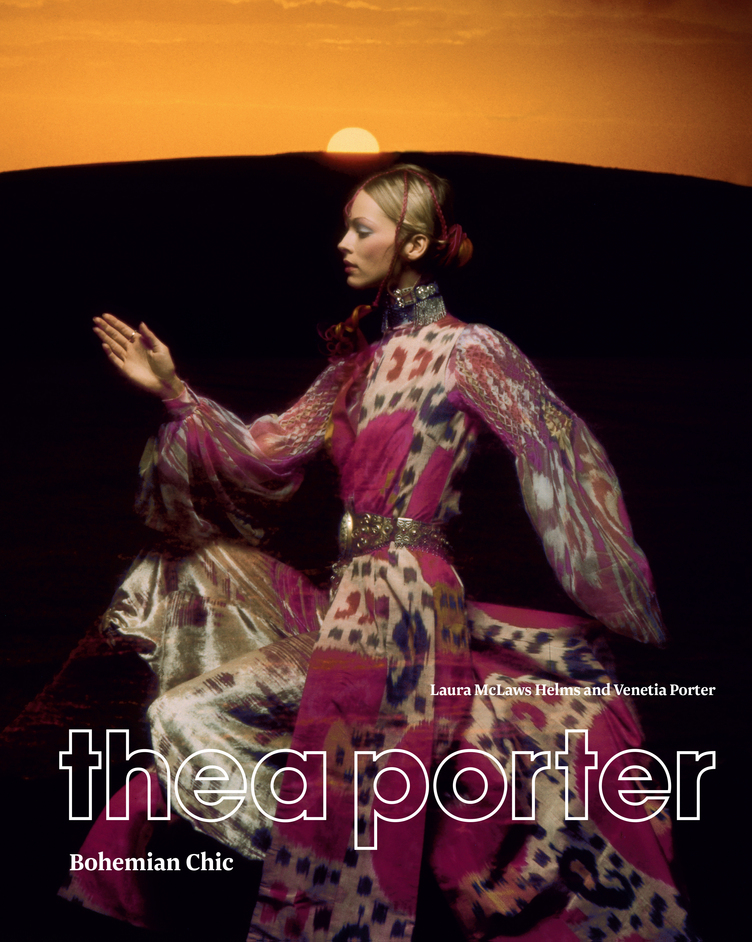 The first-ever exhibition on the fashion and interior design of Thea Porter (1927–2000) who pioneered bohemian chic in the 1960s and 1970s. Her shop in Greek street, Soho opened in 1966 and instantly drew a rock and film star crowd of clients from the Beatles and Pink Floyd to Elizabeth Taylor, Faye Dunaway and Barbara Streisand.
The retrospective covers Porter's life and career from her early years in Jerusalem and Damascus, Beirut in the 1950s, Soho in the 1960s, and New York, Los Angeles and Paris in the 1970s. Featuring outfits worn by some of the world's best-dressed women, the exhibition explores the influence of Middle Eastern and North African textiles and culture on 20th century fashion and interior design.
Highlights include Porter's seven signature looks: the Abaya & Kaftan; the Gipsy dress; the Faye dress; the Brocade-panel dress; the Wrap-over dress; the Chazara jacket; and the Sirwal skirt, as well as important fashion photography from the pages of Vogue, Harper's Bazaar and Women's Wear Daily.
www.ftmlondon.org
Hello dear followers,
this is a new post for "My Weekly Notebook" when I'll select items,
Hope you like it.


Have a nice day

Cari followers,
eccoci come ogni settimana con nuovo appuntamento per la rubrica "My Weekly Notebook" dove vi segnalo ispirazioni, idee, capi e dettagli che hanno attirato la mia attenzione.
Spero Vi piaccia.
Buona Giornata
Vi ricordo che potete seguirmi anche su blogloving
FOLLOW ME WITH BLOGLOVING:
www.bloglovin.com/en/blog/2442756/moonstyle
Women Fashion Power offers an unprecedented look at how princesses, models, CEOs, Dames and designers have used fashion to define and enhance their position in the world.
- See more at: http://designmuseum.org/exhibitions/women-fashion-power#sthash.5QQXcmbT.dpuf