Roger Vivier. "Virgule Houndstooth," Fall 2014
Jay Zukerkorn Prada's Wedge Sandal
Killer Heels: The Art of the High-Heeled Shoe
Until February 15, 2015
Brooklyn Museum
New York
Killer Heels explores fashion's most provocative accessory. From the high platform chopines of sixteenth-century Italy to the glamorous stilettos on today's runways and red carpets, the exhibition looks at the high-heeled shoe's rich and varied history and its enduring place in our popular imagination.
As fashion statement, fetish object, instrument of power, and outlet of artistic expression for both the designer and the wearer, throughout the ages the high-heeled shoe has gone through many shifts in style and symbolism. Deadly sharp stilettos, architecturally inspired wedges and platforms, and a number of artfully crafted shoes that defy categorization are featured among the more than 160 historical and contemporary heels on loan from designers, from the renowned Brooklyn Museum costume collection housed at the Metropolitan Museum of Art, and from the Bata Shoe Museum. Designers and design houses represented in Killer Heels include Manolo Blahnik, Chanel, Salvatore Ferragamo, Zaha Hadid X United Nude, Iris van Herpen X United Nude, Christian Louboutin, Alexander McQueen, Prada, Elsa Schiaparelli, Vivienne Westwood, and Pietro Yantorny.
www.brooklynmuseum.org
"Le grandi fotografie di Life"
via Mengoni 4 (angolo piazza Duomo)
La rivista Life nacque nel 1936, da un'idea di Henry Luce e durante il 900 ha "distillato" i fatti più importanti nell'immagine di copertina, per poi svilupparli nelle pagine interne della rivista; un racconto innanzitutto per immagini, prima ancora che con i testi.
Life venne pubblicata come settimanale fino al 1972 e poi con cadenze differenziate fino al 2007, anno in cui la rivista chiuse.
In oltre settant'anni di attività Life ha pubblicato le foto dei più importanti fotografi del 900, privilegiando il bianconero. Nel 2013, il film "The secret life of Walter Mitty" diretto e interpretato da un impareggiabile Ben Stiller narrò proprio la chiusura di quello che fu il settimanale di cronaca più importante nella storia dell'editoria. E la frase pubblicata sul primo numero di Life, "vedere la vita, vedere il mondo" è la sintesi della sua filosofia.
Decine le fotografie esposte, per la maggior parte in di grandi dimensioni: ci proiettano nel passato, nei fatti di cronaca che hanno segnato l'intero 900, dallo sbarco in Normandia, allo sbarco sulla Luna. Molte delle fotografie che hanno segnato il percorso di Life furono realizzate con fotocamere Leica.
In Via Mengoni, negli stessi locali della galleria, si svolgono le attività Leica Galerie, Leica Akademie e Leica Store.
Life magazine

was born

in 1936

, the brainchild of

Henry

Luce

and during the

900

has

"

distilled"

the most important facts

in the cover

,

and then developed

in the inside pages

of the magazine

;

First,

a story

in pictures,

even before

with

texts .Life

was published

as a weekly

until 1972

and then with

different

cadences

until 2007

, when

the magazine

closed. In

over seventy years

of activity

Life

published photos

of

the most important

photographers of the

900

.

In 2013

,

the movie "The

Secret Life

of

Walter

Mitty

"

directed by and starring

Ben

Stiller

told

precisely

the closure of

what was the

most important

weekly

news

in publishing history

.

And the

quote in the

first issue of

Life

,

"

seeing life,

seeing the world

"

is

the synthesis of his

filosofia. Many

the

photographs on display

,

for the most part

in

large

:

project us

in the past

,

in

news reports

that

have marked

the entire

900

,

the landing in

Normandy

,

the landing

on the moon

.

Many of the photographs

that have marked

the path

of

Life

were

made with

cameras

Leica.
www.facebook.com/leicagaleriemilano
The Future of Fashion is Now
Museum Boijmans Van Beuningen
The Future of Fashion is Now takes the visitor on a trip around the most innovative fashion from all over the world, with works by such designers as Viktor&Rolf (the Netherlands), Rejina Pyo (Korea) and Hussein Chalayan (Cyprus). The exhibition examines the critical stance that young fashion designers worldwide are adopting with regard to 'the fashion system' and the role of clothes in contemporary society. Designers with non-Western backgrounds and designers from countries bordering Europe, where until recently there was little or no tradition of fashion, are actively seeking to transform the fashion system. The selection, from clothes and accessories to videos and installations, can be seen in the museum's 1500m2 gallery. Especially for this exhibition, six designers have created new work commissioned by the Han Nefkens Fashion on the Edge programme. The realization process of these six works can be followed on this website. The Future of Fashion is Now is the sequel to the successful exhibition The Art of Fashion staged in Rotterdam in 2009, also an initiative by Han Nefkens and fashion expert José Teunissen.
Hubert de Givenchy Retrospective
Until 18 January 2014
Thyssen Museum Madrid
This exhibition, the first major retrospective to be devoted to Hubert de Givenchy and the Museum's first incursion into the world of fashion, will present a selection of the finest creations by the French fashion designer. Curated by Hubert de Givenchy himself, it will thus offer a unique focus on his collections over the past half century, from the founding of Maison Givenchy in Paris in 1952 to his retirement in 1996.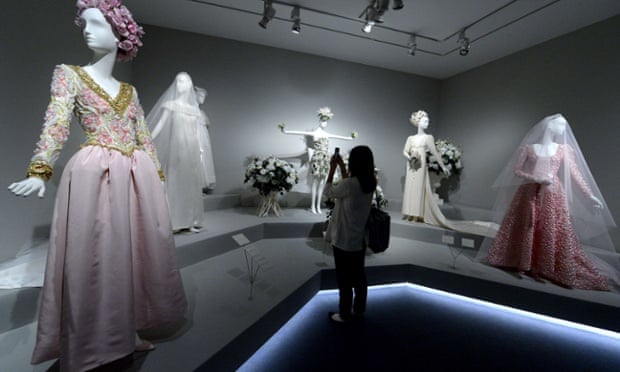 On display will be dresses that he designed for some of the 20th century's most iconic personalities, including Jacqueline Kennedy, the Duchess of Windsor, Caroline of Monaco and his muse and friend Audrey Hepburn (whom he dressed for films such as Sabrina and Breakfast at Tiffany's); examples of Givenchy's most original creations such as the "Bettina blouse" and the "sack dress"; and his admired prêt-à-porter designs, a concept he invented in 1954. These creations will be shown alongside a group of works of different periods and styles from the Museo Thyssen's collections.
Death Becomes Her: A Century of Mourning Attire
Anna Wintour Costume Center
The Metropolitan Museum of Art
New York
The Costume Institute's first fall exhibition in seven years, is on view in The Metropolitan Museum of Art's Anna Wintour Costume Center Until February 1, 2015. The exhibition explores the aesthetic development and cultural implications of mourning fashions of the 19th and early 20th centuries. Approximately 30 ensembles, many of which are being exhibited for the first time, reveal the impact of high-fashion standards on the sartorial dictates of bereavement rituals as they evolved over a century.
With the reopening of The Costume Institute space in May as the Anna Wintour Costume Center, the department returns to mounting two special exhibitions a year, once again including a fall show, in addition to the major spring exhibition.
"The predominantly black palette of mourning dramatizes the evolution of period silhouettes and the increasing absorption of fashion ideals into this most codified of etiquettes," said Harold Koda, Curator in Charge of The Costume Institute, who is curating the exhibition with Jessica Regan, Assistant Curator. "The veiled widow could elicit sympathy as well as predatory male advances. As a woman of sexual experience without marital constraints, she was often imagined as a potential threat to the social order."
Hello dear followers,
this is a new post
for "My Weekly Notebook" when I'll select items, ideas and ispirations.
T
oday I chose
some exhibitions to visit during this year 2015.
Hope you like it.


Have a nice day
Cari followers,

eccoci con nuovo appuntamento per la consueta rubrica "My Weekly Notebook" dove vi segnalo ispirazioni, idee, capi e dettagli che hanno attirato la mia attenzione durante la settimana.
Oggi vi segnalo qualche mostra interessante da vedere in questo nuovo anno 2015.
Spero Vi piaccia.
Buona Giornata
Vi ricordo se non lo avete ancora fatto che potete seguirmi anche su blogloving
FOLLOW ME WITH BLOGLOVING:
www.bloglovin.com/en/blog/2442756/moonstyle