This is the latest fragrance of the house of Cacharel, which succeeds one of the classics of the house and perfumery in general – legendary edition from 1978, fragrance Anais Anais.
ANAIS ANAIS PREMIER DELICE is turning curse to delicate gourmand shades, while highlighting cocoa in the composition.
Top notes of the new edition and luminous and citrusy. Fresh and sparkling notes of bergamot and orange are supported by lemonish galbanum. Green pear zests contribute to juicier but not to sweeter opening. The heart of the composition does not move away from its older sister and offer a romantic spring bouquet full of freshness with a floral choir of hyacinth and peony.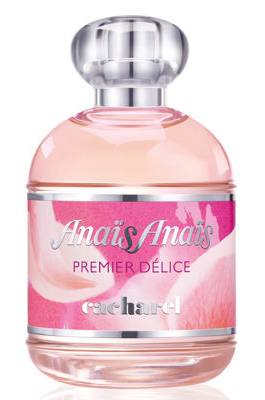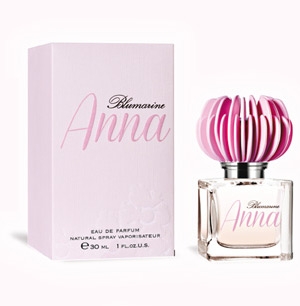 Anna, the new fragrance from fashion house of Blumarine, is named after the founder and designer of the house Anna Molinari. Anna said that this scent reflects her personality in a good way – it is romantic and seductive, but also strong and determined.
The composition is announced as a floral - musky. It opens with accords of watery fruits that lead to the heart of peony, magnolia and rose. The base features more muted tones of vanilla and musk.
The face of the campaign is American fashion model Anna Speckhart, photographed by Michelangelo Di Battista.
Prada Candy Florale is the third fragrance from the Prada Candy collection. The original Candy was launched in 2011 followed by Candy L'Eau in 2013.
Prada Candy Florale is announced as an exciting floral fragrance full of life and sensuality, inspired by an imaginary flower that smells like candy. This romantic and powdery composition contains accords of limoncello sorbet the top, flower of peony in the heart and the base composed of benzoin, musk, caramel and honey.
Actress Léa Seydoux is the face of the campaign again.
For L`Eau Couture,

Francis Kurkdjian

dreamed up a brand new tribute to freshness, which he leads into sensuality characterised by absolute sophistication. L`Eau Couture reinterprets accords in a new way: Orange Blossom unveils an unexpected facet. As its traditional honey-like aromas are subdued, Orange Blossom inhabits the fragrance like a poetic whisper.
A fusional Accord of crisp Green Almond unites the blossoms with the bed of vanilla at the perfume s base. An irresistibly light Vanilla Infusion reveals the transparency of the floral notes, which it enshrouds in an addictive aura, creating a soft and luminous sillage.
www.fragrantica.com
Hello dear followers,
this is a new post for "My Weekly Notebook" when I'll select items, ideas and ispirations.
Hope you like it. Have a nice day
Cari followers,
eccoci con un altro post per la consueta rubrica "My Weekly Notebook" dove vi segnalo ispirazioni, idee, capi e dettagli che hanno attirato la mia attenzione durante la settimana.
Vi ricordo che potete seguirmi anche su blogloving
FOLLOW ME WITH BLOGLOVING:
www.bloglovin.com/en/blog/2442756/moonstyle