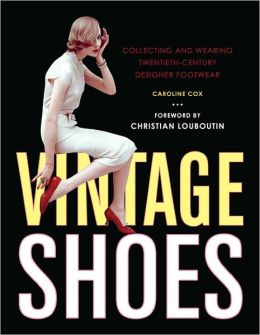 Jeweled Decoration in the 1920s
Edwardian Style, 1915
Vintage Shoes: Collecting and Wearing 20th Century Designer Footwear
, by Caroline Cox, with a forward from shoe god
Christian Louboutin

.
Covering the entire 20th century, decade by decade, this book recounts more than one hundred years of the history of shoe design, highlighting the key designers and cultural influences that have shaped shoe fashions throughout the century.
Every chapter covers a shoe era with background, designer details and pictures. From 1900-1910 you have "Edwardian Elegance" and the divine Louis heel. 1930-1947 was "The Hollywood Heel" with Ferragamo, the wedge and the fabulous platform. The 1960s, "A Youth Revolution" had shiny shoes and space age styles. And there is so much more!
Vintage Shoes
includes stunning fashion photography, specially commissioned photographs of period footwear, and the most collectible and fabulous shoe designs. As a bonus, a shopping and collecting guide offers pointers on sourcing and caring for vintage footwear, along with a glossary of shoe designers such as Salvatore Ferragamo, Manolo Blahnik, Vivienne Westwood, and many others.
Sky high orange rope sole espadrilles, 1973
Ciao cari followers,
eccoci con un nuovo appuntamento per la rubrica "Fashion in Page".
Spero sia di vostro gradimento e se amate i libri che parlano di moda continuate a leggere e seguire il blog...
baci

Hello dear followers,
Here it is a new post for the space "Fashion in Page".
I hope you like it and if you love Fashion books keep on reading and following this blog
kisses