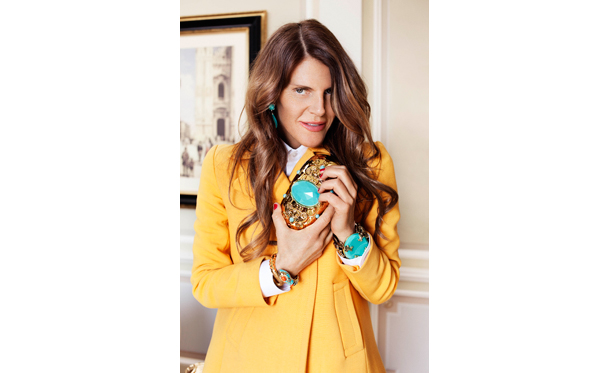 Anna Dello Russo to design an over-the-top accessories collection for H&M
H&M is proud to announce a special collaboration with fashion icon and legendary Fashion Director Anna Dello Russo. An idol of the blogosphere whose flamboyant outfits are endlessly documented by style photographers and broadcasted globally through the web, Anna Dello Russo proved her unique sense of style creating a special collection of accessories for H&M. Unabashedly glamorous, precious and playful, the range is an expression of Dello Russo's taste for ornamentation.

Available from October 4, 2012,

at the peak of the global fashion weeks tour, in around 140 stores worldwide and online. The collection features jewelry, sunglasses, shoes, bags and a trolley allowing H&M customers uniqueness at an affordable price.
"I am excited by this collaboration: this is the first time H&M involves a Fashion Director in a special project. This is the sign of an important evolution in fashion, and I am both thrilled and humbled to be the one chosen to lead it. I wanted to create precious accessories that are impossible to find. As a stylist I know accessorization is essential: it is the personal touch to any outfit. With these pieces everybody can have fun, turning an ordinary day into a fantastic fashion day", says Anna Dello Russo.
Famously described by photographer Helmut Newton as a "fashion maniac", Anna Dello Russo is one of contemporary fashion's driving forces. An unparalleled eye, she has shaped the way we see fashion today through her groundbreaking work at Vogue Italia, where she served as a Fashion Editor for over twelve years working with photographers such as Helmut Newton, Michel Comte, Walter Chin, and later as the Editor in Chief of L'Uomo Vogue. Currently holding the role of Fashion Director at Large and creative consultant at Vogue Japan, Dello Russo is a darling of the fashion bloggers, whom she likes to please with extravagant get-ups, and countless changes of outfits, during the world's fashion weeks.
ANNA DELLO RUSSO DISEGNA UNA SENSAZIONALE COLLEZIONE DI ACCESSORI PER H&M
H&M è lieta di annunciare la collaborazione con l'icona modaiola e leggendaria fashion director Anna Dello Russo. Venerata nella blogosfera per i suoi outfit sensazionali continuamente documentati sul web da fotografi e blogger, Anna Dello Russo ha dato prova del proprio senso dello stile, unico, creando una collezione speciale di accessori per H&M. Sfrontatamente glamour, preziosa e giocosa, la linea esprime tutto il suo gusto per l'ornamento.
Disponibile dal 4 Ottobre 2012
, al culmine del tour stagionale delle fashion week, in circa 140 negozi e online, la collezione include gioielli, occhiali da sole, scarpe, borse e un trolley. I clienti H&M vi troveranno oggetti unici e preziosi ad un prezzo contenuto.